Things To Do
The Westside of Shetland is often referred to as 'the sunny side'. It offers many hill and coastal walks, excellent bird watching, seal and otter watching, lovely beaches, loch and sea fishing and various historical and archaeological sites.
Local walks - Michaelswood is a very interesting woodland walk situated next to the road just as you enter Aith. There is a 'Bird Hide', Teddy Bear's Picnic, Pirate ship, pond and lots more to entertain you on your walk. Suitable for all ages and abilities!! There is a car park and a donations box.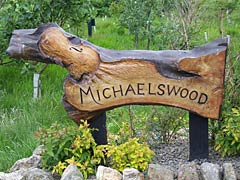 The 'Burn of Lunklet' is a 15/20 minute walk from the house and is suitable for all ages - very nice for a picnic or just to stretch your legs! Car park facilities
There are many beautiful walks on the Westside of Shetland - this photo was taken at Westerskeld

The Huxter Mills at Sandness is a short walk from the road.

Jamieson's Woollen Spinning Mill in Sandness is also well worth a visit. Hazel Tindall from Aith - the Worlds Fastest Knittter! - has released a new Fair Isle Knitting DVD. Wool Week is in October and classes book up very quickly.
Previous visitors also recommend kayaking in Shetland and you will find more details on their website.

Boat Trips
Local Boat trips are available from the Aith marina and are highly recommended by previous visitors. Cycharters boat trip can be booked for trips around the isles near Scalloway and Foula. Trips can be booked either for sightseeing, sea fishing or both.
Storm Petrels - Mousa boat trip
One of Shetland's most spectacular sights is the return at dusk of hundreds of Storm Petrels to their nests in the broch and field walls after a day feeding out at sea. The northern latitude of Mousa means it never really gets dark in summer (the "Simmer Dim") and these enigmatic small birds use this half-light to evade predators on their return ashore.
From 18th May the night time trips will be every Wednesday and Saturday until the 24th July - www.mousa.co.uk
West Mainland Leisure Centre - In Aith there is a swimming pool, games hall, squash court and fitness and health suites.
Lifeboat Station - The most northerly Lifeboat and Station in Britain and served by a Severn class lifeboat 'Charles Lidbury'.
The Aith Lifeboat Gala is usually held on the first Sunday in June. The Gala this year is Sunday 1st June. This is a fun filled day for all the family from 2-5pm.
Aith Regatta - The Aith Regatta is usually held the second weekend in July. There are a variety of sailing boats/yachts and rowing races every second year.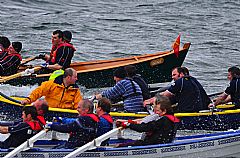 Rankin Lounge in the Aith Hall is open Friday, Saturday and Sunday evenings with bar facilities. There are pool tables, darts and a snooker table. Regular functions/events advertised in the 'Shetland Times'. Sunday afternoon teas are popular in the Aith Hall and other local halls in the summer months.
Sunday Teas - throughout the year rural community halls throughout Shetland have Sunday Teas and Homebakes. Check the local Shetland Times for locations and times. A good chance to taste delicious homebakes, meet the local people and contribute to local fundraising.
NEW FOR 2015 - New Cafe 'Fjara' opened in Lerwick near Tesco. Beautiful place to relax with coffe and cake, cocktail or meal. Beautiful scenery and seals on the shore. Opened in December 2014.
Eid Community Co-operative Ltd - There is a well stocked shop and Post Office in Aith. It is open 7 days a week with daily deliveries.
Cycle Hire
If you would like to hire bicycles whilst in Shetland, please contact Grantfield Garage in Lerwick for details and prices. Bicycles can be safely stored in the outside sheds.
Local Boat trips
Other things to do, recommended by previous visitors
Scarvataing
15 Oct

- 21 Oct 2022

22 Oct

- 28 Oct 2022

29 Oct

- 4 Nov 2022
Scarvataing Cottage
1 Jun

- 7 Jun 2024

8 Jun

- 14 Jun 2024

15 Jun

- 21 Jun 2024