Environmental Policy
We are committed to providing an excellent quality of service for our guests whilst also minimising the environmental impact of our business activities. By doing this we hope to help maintain the surrounding birdlife and wildlife for the enjoyment of all who live here and visit.
We are committed to:
Protect and enhance our local ecosystem wherever possible
Minimise pollution by reducing the use of harmful substances. We also promote reducing, reusing and recycling wherever possible.
We comply with relevant environmental legislation and regulations
You can find our accommodation advertised on the following website http://www.ecoholidayshop.co.uk/accommodation/13419
Transport: We encourage visitors to walk to the nearby facilities and attractions in Aith – all are under a 15 minute walk from Scarvataing. Local walking and cycling routes are also promoted. Bicycles can be hired from Grantfield Garage in Lerwick and they can be stored in the outside shed. Information is provided on bus timetables and fares. There is a bus service from Aith to Lerwick Mon-Sat and the bus stop/bus shelter is a 15 minute walk from Scarvataing. It is a red bus shelter and is situated near the entrance to the play park.
Waste: We encourage waste food to be composted and waste bottles, tins, paper and batteries can be recycled.
Water: We water the garden and vegetable patch with the collected rainwater. We have no water meter but we encourage visitors to use the short cycle for the washing machine.
Purchasing: We purchase Shetland products for our Welcome Pack and also include home baking. Our paper products are from managed sources – FSC – the Forest Stewardship Council – they promote responsible management of the world's forests. We purchase in bulk a variety of bin liners and refuse sacks which are 100% recycled. Our cleaning products are 'Ecover' as they are 'made to be effective and have the absolute minimum effect on the environment'. Our in-house items such as tea, coffee and sugar are 'Fair Trade' and our shower gel and liquid hand soap are Shetland Soap products.
Promote Local products:
We promote various Shetland products are Scarvataing self catering. These include:
Re-use: We provide ethical re-usable shopping bags for visitors to use. This is to help 'banish the plastic bag'. There is a holder in the utility room for any bags you want visitors to reuse.
Garden: We have planted a variety of trees, bushes and shrubs to attract bees, butterflies and birds. There is a garden bench and table for visitors to enjoy the outdoors. There is also a bird table for visitors to feed the birds.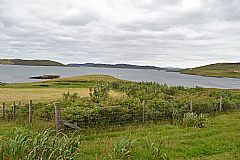 Energy: We will replace appliances with more energy efficiency ones. Low energy bulbs are replacing the older ones. When renovating Scarvataing, high density insulation – Kingspan – was used. All windows have been replaced with double glazing. We monitor electricity and heating oil usage to help try and reduce costs. We have instructions on appliances to help visitors use them more efficiently. Scarvataing Cottage has underfloor heating which is provided by an air source heat pump. It is double glazed and has maximum insulation.
Community: We purchase local products and encourage visitors to use the local shop and Post Office. We also promote local boat trips from the Aith marina. Also the Leisure Centre, the Church, the Charity shop, Michaelswood nature walk and the Aith Lifeboat Station and boat. When eating out in Shetland we encourage visitors to order, local, seasonal food and look out for organic ingredients. We provide information on the nearest places to eat and supply menu information.
If you would like further information on any of the above please let us know.
Scarvataing
15 Oct

- 21 Oct 2022

22 Oct

- 28 Oct 2022

29 Oct

- 4 Nov 2022
Scarvataing Cottage
1 Jun

- 7 Jun 2024

8 Jun

- 14 Jun 2024

15 Jun

- 21 Jun 2024
Our first visit will not be our last!